New York Transit Museum Gallery Annex | Traveling in the World of Tomorrow: the Future of Transportation at New York's World's Fairs
October 27, 2014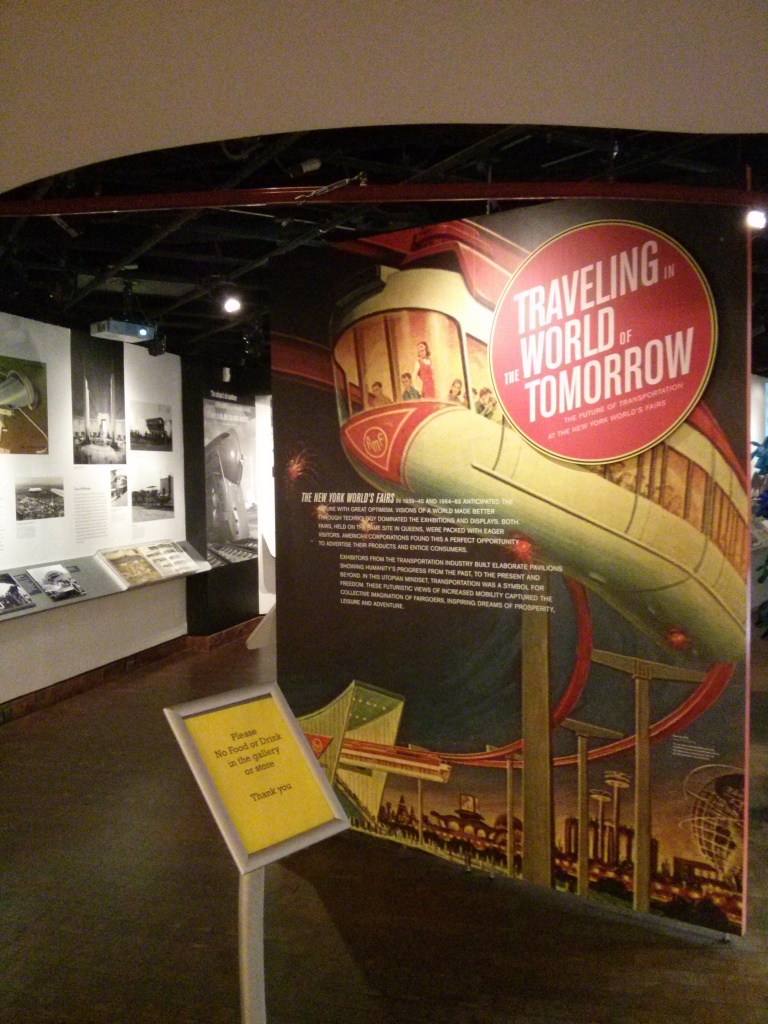 Worlds fairs, trains, planes, ships, automobiles, what's not to love?  The Transit Museum's exhibits are often aimed at the kid in us, and this one, at their Grand Central Annex, was no exception. There have been a number of exhibits and events around the city for the 50th anniversary of the 1965 worlds fair; here the theme was transportation. By juxtaposing the exhibits from the 1939 and 1964 world's fairs, this show demonstrated our shifting ideas about the future.
Both exhibits had large sections dedicated to transportation, because this captured the imagination of the visitors, and also because these were sponsored by some of the largest companies in America.
In 1939-40 there was a whole section dedicated to Marine Transportation, another for Railroad and a third for Aviation. This was the first time that most Americans could imagine themselves taking a passenger flight (New York's nearby airport had just opened) and the US army was still  trying to reassure the public of the safety of zeppelins 2 years after the Hindenburg. Kurt Veil scored "Railroads on Parade" for the fair, a pageant featuring 20 real trains, which often sold out it's 4000 seat auditorium 4 times a day.
But the big new thing in transportation was  the automobile. Ford, General Motors, Firestone and Goodrich each had their own world's fair pavillion.  GM had Norman Bel Geddes design Futurama (featured in an exhibit last year at the Museum of the City of New York), which was an ode to the coming automobile age. The Transit Museum had a short film on continuous loop of this exhibit. a one acre model of America of the future with a new system of highways, featuring overpasses and interchanges — a  prosperous future for Americans during these depression years.
By 1964, this shift was complete. Cars were no longer a novelty there was a huge parking lot at the fair.  Robert Moses, who was central to both World's Fairs, had by 1964 created a system of state and federal and local  highways in greater New York that rivaled anything else in the world. This time Chrysler and Sinclair Oil joined Ford, GM, Firestone and Goodrich in crating making major pavilions.  Sinclair and Ford featured dinosaurs and cavemen respectively, perhaps to highlight their modernity by contrast. I visited the World's Fair as a toddler, and have vivid memories of riding model Ford cars past the animatronics, listening to commentary through the car's radio.
And a new form of transportation was featured: NASA had a exhibit featuring life size model rockets, promising that a trip to the moon was just around the corner (a few of these models are still on display to this day outside the Hall of Science on the old fairgrounds).
While the Transit's Museum's exhibit consisted largely of blown up photographs with panels of text and a few souvenirs, the show captured my imagination.
Tech Bonus
Geddes's Futurama exhibit envisioned a future with self-driving cars (superhighways had curved sides to keep cars going straight, and automatic radio control would maintain the distance between them). 75 years later, Google is still experimenting with self-driving cars.