American Museum of Natural History | Akeley Hall of African Mammals
January 14, 2015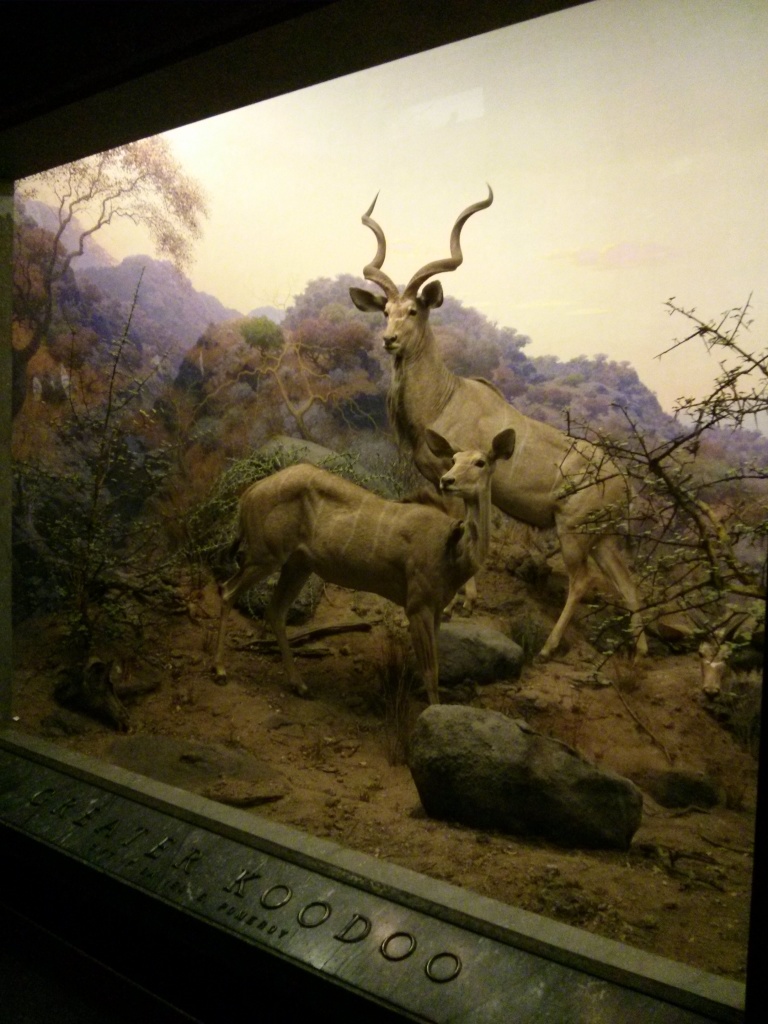 Visiting the dioramas hits me on 3 levels — it allows me to imagine that I am in the African savanna, it brings back the wonder I felt visiting this museum as a kid, and it also gives insight into the role of museums in the early 20th century.
The exhibit consists of group of elephants in the center of the room, surrounded by 2 levels of habitat dioramas, 28 in all. Each features large mammals, though birds, flora and insects are also included. The dioramas were completed between the 1920's and the early 1940s.
The dioramas seamlessly combine 3d and 2d elements — taxidermy and dried plants with expertly painted backgrounds, which are curved to give the illusion of endlessness. In fact in photographs it is sometimes hard to tell where the physical elements, plants and grasses end and the painting starts. These are beautifully created, with attention given to every detail of the dirt and each hair of the animals' fur.
This exhibit were created before TV, computers or easy travel. There were no nature documentaries, in fact, color photography was not prevalent, so this was the most authentic experience of animals in Africa most New Yorkers could have. The naturalistic presentation of the animals in their habitat was an exciting new idea at the time. In some exhibits the animals look out as if the visitor has startled them, other exhibits invite you to peak around corers to see a small bird or a zebra family. This was the "virtual reality" of the day — as realistic and immersive as it got.  While today, we would never hunt wild animals for a museum, we appreciate this exhibit as a time capsule from an era where the greatest preservationists were also the greatest trophy hunters (Theodore Roosevelt and his son each killed one of the elephants in the central grouping).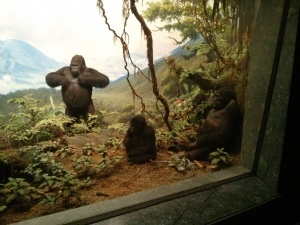 The dioramas are framed in marble, labeled with bronze lettering, and are capped with bas relief frieze, presenting them as monuments, almost temple like. While these were intended to entertain and educate visitors, the hope was that by bringing nature to the urban public there would be an appreciation and reverence developed that would allow the animals to be protected.
These dioramas are truly works of art and I hope they never change them.
Tech Bonus

This museum, which is over a 100 years old has incorporated technology in different ways. Even thought the building is made of 3 foot thick walls, they were able to cover the museum with enough wifi routers that visitors not only can get internet connectivity but the AMNH Explorer app can triangulate your location in the museum on a map and show you the bathrooms and exhibits nearby. The planetarium in the Rose Center for Earth and Space (an addition opened in 2000) is state of the art, and kiosks and video screens are interspersed with the original exhibits. Some screens even present the latest science news.