Solomon R. Guggenheim Museum | Alberto Burri: The Trauma of Painting
November 12, 2015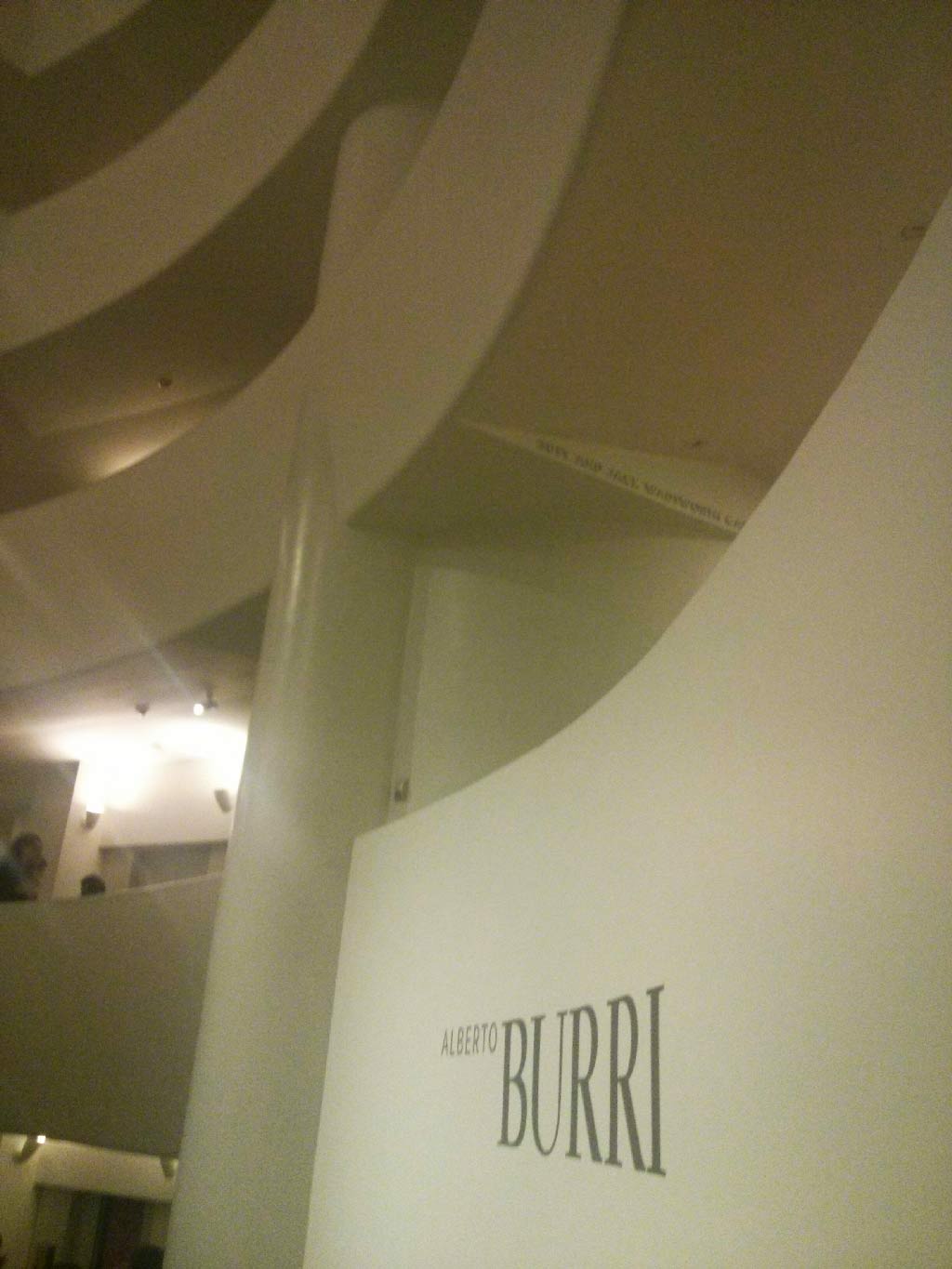 I was so moved by this exhibit that I had to see it twice, a first for my 50 Museums project. I had been waiting for a great show to visit the Guggenheim, and this was it. Alberto Burri was an important figure in modern art who's last major exhibit in the United States was nearly 40 years ago, yet throughout his career, he was a major influence on modern artists on both sides of the Atlantic. It was a treat for me to be exposed for the first time to a modern master.
Burri's paintings are completely abstract, yet they evoke a strong emotional response. He refused to discuss any narrative content of his paintings, giving the works simple descriptive names like "Bianco" or "Bianco y Nero", but critics at the time and museum visitors today can't help but try to explain the art in biographical terms. Burri was trained as a doctor, and joined the Italian army during World War II. He was captured and spent the rest of the war in a POW camp in Texas, where he decided to give up medicine and become an artist, without any formal training. We feel in his art his reaction to the horrors of war and to the poverty and destruction in post-war Italy. We can't help but wonder if the hand-sewn panels in his Sacci (sacks) series of paintings somehow represent sutures or if the red peaking out iron plates in the Ferri series are intended to evoke open wounds.
While the pieces do evoke an emotional response, the response seems to come from the materials themselves, rather than from the dramatic gestures of his Abstract Expressionist contemporaries.
Burri eliminates drawing entirely from his paintings. In his Gobbi (hunchback) series, he breaks the two dimensional picture plane, creating bulges by putting objects behind his canvases that push them out from the wall, resulting in sculptural framed artwork. His Catrami (tar) and Cretti (cracks) use texture rather than color to create shapes.
The Cretti series from the 1970's are also powerful, but they have much more of a sense of serenity than his earlier work. These were painted when Italy had entered a time of prosperity. Burri was spending winters in Los Angeles and he may have been inspired by the dry cracked earth of Death Valley, but he had also grown up around Renaissance and Baroque art, where paintings and frescoes become covered with cracks over time. He created these paintings by using a chemical "defect" in white paint that makes it crack if it is not properly combined with binders. To create his black Cretti, paintings he would first create the paintings with white paint, and then paint the cracked surface black.
Perhaps my favorite pieces are the Legni (woods) where he "painted" with wood veneer, and then worked the pieces over by burning parts with an oxyacetylene torch.
Tech Bonus

The exhibit website tries in many ways to recreate the experience of visiting the exhibit.
The paintings are organized by series into 10 slideshows. The website visitor can browse between paintings in each series. Clicking on the title brings up the caption, while clicking on "About this work" changes the slideshow into a page with a brief discussion of the painting followed by a glossary of terms used in the caption and the description. Only the glossary is giving information in a way that is organized differently than the exhibit itself.