The Rubin Museum of Art | Becoming Another: the Power of Masks
April 19, 2015
I've always loved masks — growing up, Halloween was a favorite and the Mexican folk masks in the basement always intrigued me. So it's no surprise that I was fascinated by this exhibit of about 100 masks from a variety cultures at the Rubin Museum of Art, from the museums own collection and loans from many other major museums.
Some of the masks are from the Northern India, Nepal, Bhutan, and Mongolia, in keeping with the Rubin's core mission of Himalayan art;  there were not many from Tibet, however since these type of artifacts were mostly destroyed during the Cultural Revolution. Others masks were from Buddhist traditions in Japan. But it was interesting that they also included masks from Indigenous people of the Pacific NorthWest, and Siberia. As it turns out these two groups seem to have similar cultures, reinforcing the theory of migrations across the Bearing Straights (possibly in both directions).
One of my favorite masks was actually from a Cherokee artist  (the Cherokee were from the American Southwest before being relocated to the western US). This huge mask includes a mechanism that allows the mask to open up, revealing another mask inside, doubling down on the transformational theme of masks. Apparently, the dancer would manipulate his mask to open it at key moments in the dance-drama. This seems to combine aspects of puppetry, another interest of mine.
The Raven mask, from the Kwakwaka'wakw people of the Canadian Northwest, interested me because of its dimensions. At over three feet long, it would take an acrobat and an athlete to perform in such a mask.
The Japanese horned mask was another favorite, perhaps because its humor spoke to me across cultures. It was not clear to me why they picked these these cultures, while leaving out masks from Africa and the Pacific Islands. Perhaps they were left out because they are already well known to us, as they had such a large impact on 20th Century art.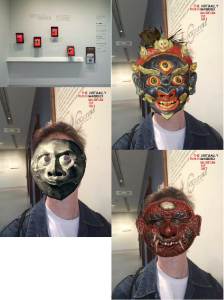 Tech Bonus

Looking at all of these masks mounted in cases, made me yearn to try them on, and the Rubin used technology to satisfy these cravings. They installed a wall full of iPads with an augmented reality app for users to try on the masks virtually, and to email themselves the results. As you can see, I had fun playing with this.