The Cleveland Museum of Art | Gallery One
February 27, 2015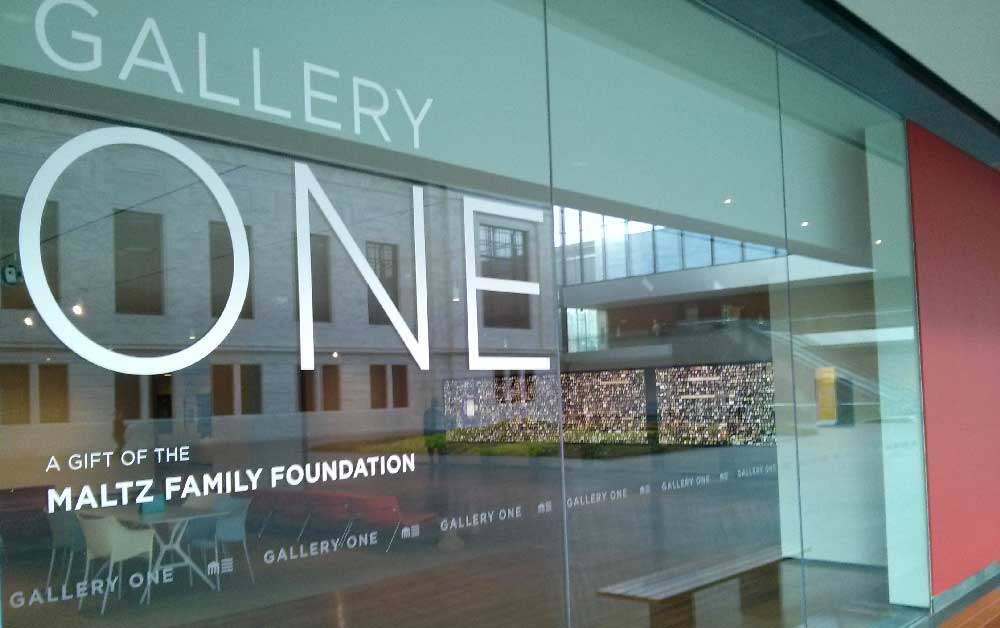 When the Cleveland Museum of Art underwent a major renovation in 2013, they created Gallery One, blending art, technology and interpretation. Starting here, visitors explore the rest of the museum with a new appreciation. The goal is to have museum goers look closer at the artwork which they have already engaged with in Gallery One.
I had been hearing about this exhibit for almost 2 years, so I was very excited when I finally got the opportunity to get to Cleveland and see it. And when Jane Alexander, the Chief Information Officer at the CMA, offered to give me a tour I knew I was in for a treat. The gallery and interactives were designed in conjunction with Local Projects, who also worked on the Cooper Hewitt and the September 11th Memorial and Museum, some of my favorite museums in this blog project.
Gallery One starts with the Collections Wall, which at 40 feet, is the largest multi-touch screen in the United States. Every object currently on view in the museum (about 4000 items) floats by, inviting visitors to touch one, which enlarges it and stops it from moving. Meanwhile, the rest of the collection streams around the selected item in a hypnotic way, allowing others to interact on different parts of the wall. Users can then save the item to their mobile device using the CMA's app to create a personalized tour, or they can browse similar items based on various criteria, such as by medium or period. Every 40 seconds the wall switches from the stream of the entire collection to a just a few items organized around a theme such as "Love and Lust," "Funerary Art," or "Hats." Jane showed me how the hardware for the display wall consists of 150 micro tiles. She was able to pull the front of one off with a special suction cup tool, revealing that each tile consists of a DLP projector backlighting a small touch screen.
The rest of the gallery consists of several groupings of a few selected artworks organized in a unique way — for instance there was a series called This Year in History with a painting, a chair and a vase all from 1931.
Each grouping has a related touch screen providing information about the pieces, as well a couple of amusing games. In Make a Face, visitors are invited to grimace at the screen, which uses facial recognition software to find objects in the collection with similar grimaces. In Strike a Pose, visitors are given a picture of a sculpture in the museum, and are invited to match the pose. A Kinect style sensor measures the visitor and scores them on how accurately they recreated the pose. Users can then share the results (see the email I generated above). Global Influences invites users to guess what two countries influenced a specific artwork. While many of these games may have been designed with young people in mind, the museum has found that elder visitors also spent a lot of time with these interactive displays.
Tech Bonus
The Cleveland Museum had a phone/tablet app called ArtLens which has several functions. It can be used for the custom tours I mentioned before, and it can also show you what gallery you are in (using iBeacon technology) and which items in this gallery have ancillary content in the app (some have audio, others video, others text content only). Certain paintings have an ArtLens Icon on their label, meaning they can be scanned for an augmented reality experience using the app. This adds tags with additional info to specific spots on the artwork. The app can be used to help plan a visit, in the museum, as well as after your visit to review items you have favorited.